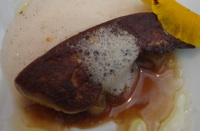 T
error, pure and refined, is not what you expect when attending a gourmet festival. When that festival takes place in Abu Dhabi, however, and when a visit to Ferrari World, home to the world's fastest roller coaster is on the programme, that is precisely what you get. An agonising 92 seconds on this vicious, snaking monster brings a whole new meaning to the phrase 'white knuckle ride'. Enough said.
Read More...
03 February 2011 Filed in:
Travel
If the words 'Gourmet' and 'Abu Dhabi' don't exactly fit together in your mind then think again. I was the same myself until my first visit late last year. The first evening I dined on a splendid rib eye steak, accompanied by a tasty Erath Pinot Noir 2007 from Oregon, in Marco Pierre White's recently opened restaurant at the Fairmont Hotel. Not every restaurant is as good, but this Emirate is certainly a place on the move in culinary terms. Beware the wine prices, though, they will bring your credit card to its knees.
Read More...